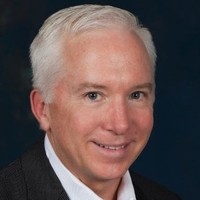 Available Now!
All In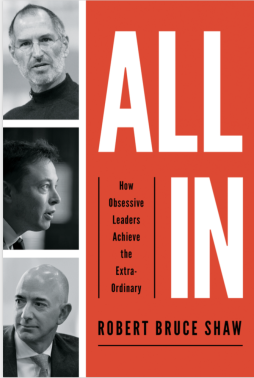 How Obsessive Leaders Achieve the Extraordinary
By Robert Bruce Shaw, Ph.D.
Published by HarperCollins Leadership
What makes great leaders like Jeff Bezos and Elon Musk extraordinary? All In shows leaders and aspiring leaders how obsession can fuel the most incredible successes - but also take a toll on a company's culture, as well as a leader's co-workers and family.
Extraordinary leaders share a passionate commitment to achieving their vision that borders and sometimes crosses the line into obsession. All In shows why obsession, if properly focused and managed, is both necessary and productive. Advances in any endeavor almost always depend on a small group of individuals who are completely consumed by the goal they're pursuing. When these leaders and teams are successful, everyone benefits from their singular focus and relentless drive

All In explores the three obsessions underlying the achievements of the greatest leaders: delighting customers, building great products and creating an enduring company. By taking you inside the success stories of iconic leaders, including Jeff Bezos of Amazon, Elon Musk of Tesla, and Steve Jobs of Apple, author Robert Bruce Shaw shows the upside of obsession and the practices that support it. Learn why...
Amazon's first principle is customer obsession and the behaviors that sustain it as the firm becomes one of the largest in the world. The company strives to "work backwards" from the customer in its day-to-day operations and when making key decisions.
Tesla puts products at the center of everything it does and the leadership approach that created a revolutionary electric car. Musk believes great companies are built on great products, and anything that does not improve the quality and appeal of his firm's cars is a waste of time.
Steve Jobs' greatest creation was not the Mac or iPhone but Apple the company. He was forceful in creating a unique and enduring culture that has continued to thrive in the decade since his death.

Shaw also provides insight into the dark side of obsession and its destructive potential - as vividly illustrated in his case study of Uber's aggressive pursuit of growth during the tenure of CEO Travis Kalanick. Appealing to any reader of entrepreneurial biographies, All In shows individuals, teams and organizations how to manage obsession's downsides while realizing the benefits of relentlessly seeking to create something that truly matters.
Hardcover | 240 pages | 9781400212200 | July 7, 2020